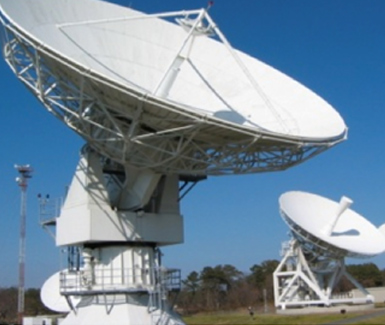 Global Satellite Solutions
BMP provides world class uplink, downlink, turnaround and hosting services, it can satisfy all your broadcasting needs for end-to-end delivery, our mission is to ensure original and complete solutions in the area of broadcasting and satellite transmission
Our Satellite Services:
1. Channel Distribution and Contribution Services
BMP delivers your TV channel on the most popular digital satellites that are dedicated for direct to home (DTH) viewing. We can easily collect your channel from anywhere using our Global Satellite and Fiber Network connections or via the Internet or Satellite Contribution link, and distribute it directly to your viewers' home in every corner of the world.
2. Turnaround Service
Where transmissions involve an uplink through one satellite, or through the Internet And then require retransmission via another satellite or fiber network, we provide Quick turnaround on our transmission and broadcasting services based on turnkey Principles.
The turnaround service provider like BMP directly receives the signal from one Satellite (Across Europe, Middle East and Africa region) and then immediately Retransmits it to another satellite, often in just a single Hop. BMP can regionalize The content or deliver it as is.
Our aim is to deliver custom made solutions that are of the highest quality and Provide value for our clients like Broadcasters and Media Organizations Just what you will do is to choose the satellite, the regionalization and the encryption That best fits your Budget and destinations and we will handle it to you.
3. SCPC & MCPC Services
BMP Communications offers Satellite TV Distribution service via SCPC (Single Channel per Carrier) or MCPC (Multi Channel per Carrier) to Broadcast your Media content around the world in combination with a high-power amplifiers.
4. Permanent & Occasional Use Services
With SNGs, Fly-Aways and professional crews stationed in different countries, we can distribute your live content (Distribution of News, Sports Special Events, etc...) throughout the world via satellite and fiber network as well as full support for your production needs throughout Europe, Middle East and Africa
5. Playout
BMP uses an established HD/SD channel playout with advanced graphics (HD/SD character generator) capabilities and controlled by an automation system with automatic playlist synchronization and on-air protection.
Ingest of programs material in HD or SD can be done locally via tapes/DVDs or other media or it can be sent via FTP and by Satellite to BMP. Fully managed Playout & remote Playout systems, Encryption Services, Promo & Advertising Insertion and Channel Time Delay Our end-to-end playout solutions enable customers to increase the number of channels they broadcast based on the playlists they provide.
The Playout system is fully redundant, and 24/7 on-site monitoring and backup systems, including all supplementary services, ensure that you are always on-air with high quality content.